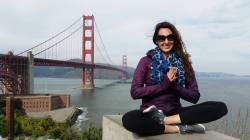 I'm not where I thought I'd be.
Like a lot of women, I assumed that by the time I turned 30, I'd have the perfect husband, the perfect home, 2 perfect little kids, and - of course - the perfect job. I was sure I'd have it all together, and naturally be healthy and in fantastic shape to boot. Ha!
I'm not sure where we get this idea while growing up, but now that I'm here, I realize the absurdity of it. I'll be 30 on Saturday, and let me tell you - I'm not "there". Not even close!
For the past 6 months or so, I've had little moments of anxiety hit me. Thoughts like "Oh my God, what am I doing with my life?" or "Look at that girl -
she
has it all together" have run through my mind. If I'm not careful, I start going down the rabbit hole of comparisons and
what ifs
.
Over the past 5 years, I've embarked on a journey of self discovery. Through that process, I've learned to accept those thoughts as just thoughts - symptoms of aging, that we're all susceptible to, but don't have to be taken at face value. I can allow them to surface without judgment, and let them go. I can focus on gratitude for where I am, and not on where I thought I should be at a certain age. It doesn't always work, of course, and this whole thing is a work in progress, but I'm starting to realize that where I thought I'd be was imposed on me by well-meaning teachers, parents, media, and friends. It was never something that came from within.
The things is, we're all running around comparing ourselves to each other! No matter which path we choose - the house and kids, the free spirit traveler, the entrepreneur - part of life (and aging) is coming to terms with the doors we close along the way. We know we can't have everything, and yet somehow we expect (and are expected) to.
No, I don't have kids. I don't have a booming health coaching practice (yet). I don't have the perfect home, car, or marriage. Who does? But if I had taken the path of just trying to achieve those things in order to check them off a list, I wouldn't have the experiences that I do now. And the thing is, when I stop and look at it, my life
is
pretty great.
I may not have kids yet, but I feel grateful to have traveled extensively over the past 10 years. I may not have a car, but I feel grateful to get to use my capable body to get me from place to place. I may not have a perfect body, but I'm grateful that it's strong and healthy and allows me to experience life to the fullest. I may not have the perfect family or marriage, but I am so incredibly grateful for having amazing people in my life that love me more than I thought was possible.
There will always be a trade off. And that's okay. Know that if you're having a hard time with aging and finding yourself comparing your life to others, that those people had to trade something as well. That mom with the perfect home may have put aside some of her dreams, and that girl who's always traveling might be wondering what would've happened if she'd "settled down" with that guy. Who knows? But life is an adventure - and guess what? Your 30s (and beyond!) can be some of the best years of your life. I love looking up to women who are having kids later in life, rocking it in their businesses, and just being all around bad asses. Whatever you think you missed out on, you didn't! There is plenty of time to bring your dreams to fruition, and I love that my generation is redefining where we "should" be at a certain age.
I'm not where I thought I'd be. And I'm okay with that.