If you've read my blog, you know that I believe that health is a holistic issue. It's not just good nutrition or moving your body more. It's relationships, spirituality, purpose, and self-care. It's re-evaluating your life (regularly) to see where you could make changes to better serve what you need in this stage of your life.
Right now, that's my beauty products. I have a pretty good handle on how I need to eat to feel my best, and I'm consistent in my exercise routine. But one area where I've been resisting change is in my beauty regimen. I know that there are gross toxins in most of our beauty and skin care products that can mess with our sensitive endocrine systems, but I'll be honest - the main reason I haven't switched over to all-natural, all-organic products is because of money. Because smaller companies are using better quality ingredients (and, we assume, not cutting as many corners), the price tag has to go up. While I understand this, it's been difficult for me to take the plunge and overhaul my entire bathroom at once.
So what did I do? Re-evaluated, and started small. Before I share my go-to hair and skincare products with you, I'm going to share a few tips on where to start, if you're looking at going clean, organic, sustainable, and cruelty free.
Simplify. Look at all the products in your bathroom and ask yourself if you really need all of them. What could you do without? What can be combined?
Think outside the box. While Lancome and L'Oreal tell you you need $50 eye cream (filled with gunk), organic coconut oil can actually do the exact same thing. I know it seems strange, but where can you make your own beauty products? I'll go into this a big later on.
Remember that beauty really and truly does come from within. If your hormones are humming along happily, you're well-hydrated, and you're absorbing the nutrients you need, your skin, hair, nails, and face will show it.
So, without further ado, here are my go-to skin products. Full disclosure: I haven't switched my makeup over to organic, sustainable products (yet!). I'm also not receiving any compensation for this post - these really are my go-to picks!
For my hair:
I use
Live Clean
shampoo and conditioner. Made with 97% plant and natural ingredients, they never test on animals and use all clean, vegan ingredients. I absolutely love the Bali oil shampoo and conditioner for its smell and shine! Yes, a bottle is a bit more expensive than your average bottle of herbal essences, but for a clean product it's a great price. I'm willing to pay a bit more to know that I'm keeping my hormones happy and healthy!
Body wash:
For body wash (which I also use as shaving cream), I trust
Alba
and
Jason
products (how could I not, with a husband named Jason?! ;) ). Again, a bottle will run you a few more dollars than your average drugstore brand, but both will be free of toxins and never tested on animals.
Face wash:
This is an easy one for me. I've been using
St. Ives
face washes for as long as I can remember. Right now I'm loving their
Green Tea Blackhead Clearing Scrub
, but of course the
Apricot Scrub
is a classic as well! I know that they use good ingredients, but have not been able to find a definitive answer on animal testing. If anyone knows, please comment below!
Deodorant:
I recently switched over to
Jason deodorant
as well, and am loving the lavender scent!
Toothpaste:
Since childhood, my family has used
Tom's of Maine
toothpaste. It's fluoride and SLS free, plus it's basically the same price as the regular stuff! I use their toothpaste for sensitive teeth and love it. I also recently came across
the Green Beaver Company
, a Canadian brand that specializes in skin care products and includes a toothpaste line.
Everything else: coconut oil!
This is seriously my go to. Ever since I discovered that I could use coconut oil as a beauty product, I ran with it and never looked back. It's my face cream, body lotion, and makeup remover. I use it for hair masks and
oil pulling
. It's so versatile, I don't know what I did before!
Look for virgin, cold pressed and invest in a good sized jar of it. Yes, it might be pricey, but it will last a long time, and you can go ahead and get rid of your eye cream, body lotions, makeup remover, and whatever else you think of to substitute it for! (I love to hear new suggestions). I know it's a super hippie stereotype, but coconut oil really is an all-purpose godsend!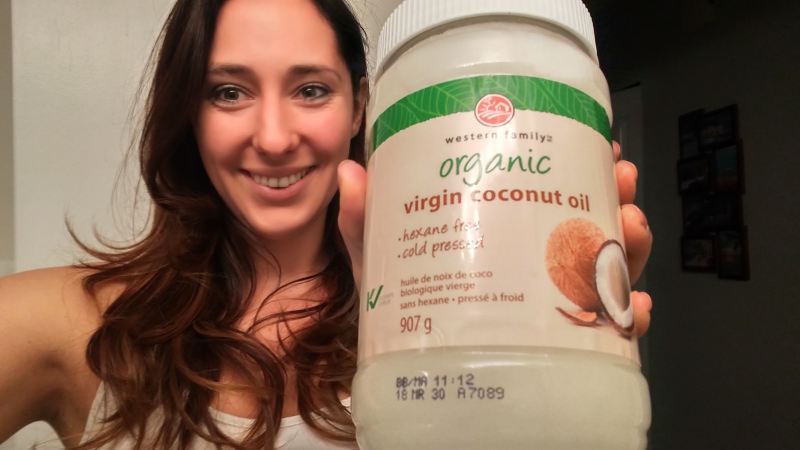 Bonus tip: make your own!
From
avocado face masks
to
homemade toothpaste
, there's a plethora of recipes out there to start making your own beauty products. Have you ever tried? I'd love to hear from you in the comments below!