As a Health Coach, people often want to know what my own personal diet looks like. Do I eat what I recommend for my clients? Do I count calories or restrict certain foods? How do I find the time to make good, nutritious meals?
In this week's blog post, I'm going to share with you some tips and tricks, and show you what a typical day of eating looks like for me.
Most of the meals I make for myself are what I share with my clients in their personalized meal plans. I focus on simple recipes, made from real ingredients, that are filling and taste good. I never count calories, and believe it is one of the most damaging concepts ever introduced by the food industry.
I focus on what I'm eating, rather than how much.
For most of my meals, I think back to what my parents used to cook at home - I use what I have in the house, and I try to eat a balanced mix of protein, carbohydrates, and healthy fats. I also enjoy dessert, eating out, and red wine in moderation.
So, let's jump in!
On weekday mornings, I usually get up and stretch or work out for about 15 minutes. I start the day off with a big glass of cold water, or hot water with lemon (depending on how I'm feeling). This helps jump start my water consumption (I aim for 2 - 3 litres per day), and flushes out the body's toxins. If I have time for a full breakfast, I make my favourite - scrambled eggs with veggies and avocado. It's delicious, nutritious, and keeps me full until lunch!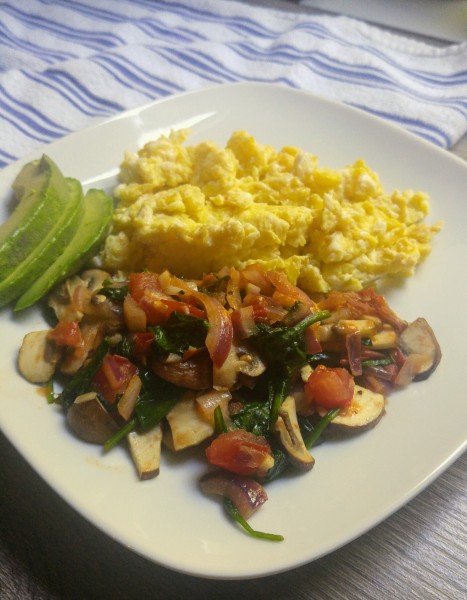 Get this recipe
here
.
If I'm running late or not feeling hungry, my backup is oatmeal. I make sure to keep a jar at work, in case of emergencies.
Recipe
For lunch, I typically eat a salad or leftovers. I prepare everything the night before, so that I'm not running around in the morning (well, most days, anyway ;) ). In the winter I eat more soups and stews, which I make in the crockpot and store for later. A really easy salad that I make in a pinch is this one:
Get the
recipe
.
If I haven't prepared anything, some of my favourite healthy go-tos are Whole Foods, Freshii, or any one of the amazing sushi restaurants in Vancouver.
For dinner, I love to cook. I find washing, chopping, and cooking vegetables to be a calming, meditative experience. That being said, I know not everyone feels the same way, and so I have lots of quick and easy recipes in my meal plans. For me, a typical dinner is usually salmon, chicken, or quinoa based, with lots of veggies on the side. Now that Spring is truly upon us, I'm enjoying lighter dishes (especially seafood), and seasonal veggies. Check out this quick and easy
mussels recipe
- made with a white wine tomato sauce.
For dessert I usually eat a piece of dark chocolate, and/or enjoy some red wine. I make sure to drink lots of water throughout the day, but I stop eating and drinking by 8pm. That way my body can be done digesting before I head to bed (usually at about 9:45). Sleep is SO important for weight loss, and I've found that going to bed early has really changed my life. It allows me to get up in the morning - fully rested - and start the day with energy and motivation.
While a healthy diet is part of a healthy lifestyle, it's not the whole story. Remember that sleep, water, and creativity are also integral to living a happy, healthy, and balanced lifestyle. What are some of your favourite healthy recipes? Share in the comments below!
Liked the recipes in this article?
Contact me
for a free sample meal plan today!